Telegram is a messaging platform. It is similar to the famous brand of whatsaapp. a good thing about telegram is that it allows extended features that most messaging application. Telegram group is similar to telegram channel. Anyone can post on telegram group but in telegram channel ony admins can post.
Just like almost all messaging applications, telegram group provide the ability to create and join private or public groups. The Telegram group can hold up to 200,000 members and is a powerful communication tool. But it should not be confused with the channel at the same time. It holds the largest capacity found on any application. 
Difference between Telegram Group and Channel? 
Please note that a Telegram group can have up to 200,000 participants. And it is impossible to create a secret group exchange, so your group chat is not end-to-end encrypted. However, the Telegram group is already private by default, which means that only people who have been invited or have the "t.me" invitation link can join. You can also make the group public, and then it will appear in the group/channel search results and anyone can join.
Most importantly, the telegram group should not be confused with the channel. Groups are designed for multi-party chats, which means that chats are two-way. The channel is not interactive because the Telegram channel is designed to provide content to a large audience.
You are not a member of a channel, but you can subscribe to a channel, and a Telegram channel can have an unlimited number of subscribers. Whenever you post in a channel, you will use the channel's name and photo instead of your own name and photo to sign the message. Only the channel's administrator has the right to post in any way.
The channel also provides a complete media metrics section, which contains analysis tools and statistics about traffic, engagement, and works. Telegram channels have the same functions as the official Twitter, Instagram or Facebook accounts of media organizations, institutions, individuals or companies.
How to find and join a Telegram group?
As mentioned above, we must distinguish between private and public groups. This distinction will limit the accessibility of new members. In order to find and join a private group, you always need a direct invitation or a "t.me" invitation link. For public groups, there are a variety of tools that can be used to discover groups that match your interests.
How to use the invitation link to find and join private/public Telegram groups
You cannot find private Telegram groups through the built-in search function of instant messaging tools. This means that you must be invited directly by one of the members or receive an invitation link, such as "t.me/group_name". For private groups, only administrators can generate and share invitation links. In a public group, any member can access the shared link and send it to others. You can also join a private (and public) group via a QR code.
How to find and join public Telegram groups through the search bar
To find and join a public group, you don't need an invitation. Of course, the invitation system is effective, but it is not as important as private groups.
To discover a public group, just use Telegram's search function:
On the app's home screen, tap on the Upper right.
Enter the name of the media, organization, personality, brand, or theme of your choice.
Public groups are shown in Global search.
Select the group of your choice and click on it.
After joining the group, click the sidebar at the top of the chat window.
according to Join the channel.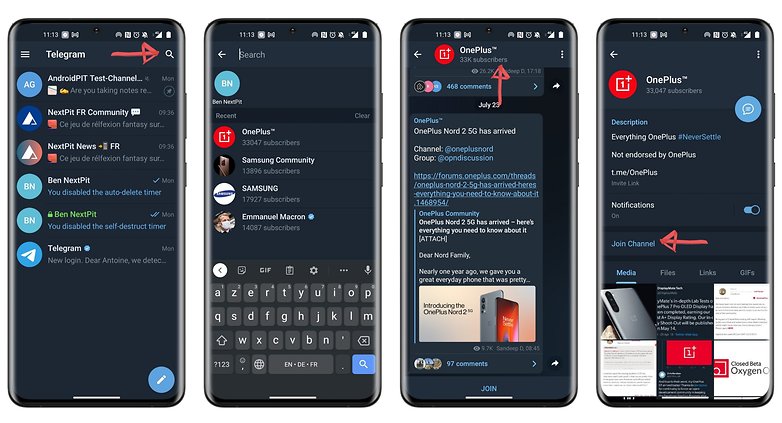 Public groups and Telegram channels are shown in the results. In order to distinguish between them, remember that a public group will display multiple "members", while a channel will display multiple "subscribers" under their respective names.
In conclusion, note that there is a slight difference betweeen telegram group and channel. Another awsome features of telegram group s that you can chat with anyone without having to share your number with them. It also allows for a large number of users compared to other messaging platforms. All in all having a group on telegram is yet another way to boost your brand. And it helps with brand visibility.