Months after the long awaited release of the smart glasses fromFacebook and Ray-Ban. They have teased about their smart glasses before and are expected to announce the final product later today. However, @evleaks Seems to steal the limelight, leaking three upcoming glasses.
They all use Ray-Ban's classic design-Wayfarer, Round and Meteor. The side frame is a bit thick and has a button, which may help control the smart part of the glasses. These glasses were intially supposes to be launched on September 9th 2021.  




Traveler
These three models are available in various colors and Evan Blass was also very helpful, showing us the entire retail package. The box is the only place where we can see the Facebook logo. There is also a box, guide, warranty, soft case, and charging cable (or at least it looks like one).




Round
Sadly, the leak did not give any specific features or functions, so we may have to wait for those announcement events.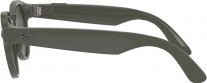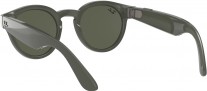 In conclusion, they are worth the wait and every penny spent on the smart glass. The facebook logo is not seen on the smart glass itself. Well we are still expecting the final foottage of how it looks. Yet another innovation to the world of smart glasses.